Advice for every stage in life : mid-life
No two financial plans are the same, especially taking into account different stages of life.
A person in their 30s will need very different advice from a person in their 60s.
Mid-life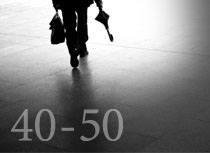 This is your consolidation stage – achieving a comfortable lifestyle and thinking about managing your long-term future.
You're likely to focus on:
bigger family home
family holidays
change of job
protection of lifestyle
healthcare & work/life balance
investment property
flexibility at work
funding children's education
managing your own super with a self managed super fund
tax management
retirement planning timeframe
Comments