There are many reasons to start your own business. Taking a great idea and making it into reality. Greater control over how your hours are spent. Knowing that there is no hard ceiling on your income. Knowing any extra hard work you put in will be to the benefit of you and your family rather than your boss.
But starting a business can also be overwhelming. And that overwhelm can often see worthwhile ideas and ventures wither and die before they really get the chance to get off the ground.
If your venture has the potential to be successful, these five tips will ensure you're giving it the best chance to do just that.
1. Road test your idea
Speak to people whose opinion you trust and run your idea past them to gain feedback and an alternative perspective. You'll be pleasantly surprised by how many people will be happy to help and connect you to professional expertise.
You also want to speak to people in your target market. If they're not responding to your idea with eyes that light up or become very thoughtful, you either haven't explained your idea very well (and thus need to work more on your pitch), or it's not a very good idea.
If your idea IS a good one, please don't worry that sharing it with other people will allow it to be stolen. It's one thing to have an idea. It's quite another to actually put in the hard work to make that idea a reality. It's very unlikely that anyone you share your idea with will have the same drive and determination you do to make the idea come alive.
2. Start lean
Having people in your target market say 'Yes! That's a great idea, I love it and would buy it/pay for that service,' is just the first step. Getting them to put their money where their mouth is and actually pay for the thing you're offering is a crucial second step far too many new business owners ignore.
It's much easier to get caught up in the 'glamorous' parts of a new business – things like logos and websites and even an office.
For a logo, however, it's best to start with a simple text-based logo. For a website, a simple template WordPress site.
Really, where you want to start is with something as simple and low-cost as sending an email with a proposal and a quote. Once you've had enough people accept your proposals and put money in your account to pay for what you're proposing, you know your idea is viable enough to invest in things like branding, websites and office spaces.
3. Leverage your contacts and community
Starting your own business can be tough and lonely! Find a friendly, affordable accountant and lawyer. Sound technical advice can save you money and tears further down the track.
Similarly, seek out people who've been in your shoes. Learn from their experiences and ask for feedback.
4. Figure out your funding
You need capital to start your business. This may come in the form of savings that will pay your business and living costs for the first 3-6 months while you're getting everything off the ground. You may need to borrow money from family, friends or tap into a partner to help with your start-up.
It would serve you well to map out a business plan, budget and cash flow projections then stick to your budget. Make sure your business has a dedicated bank account for transparency. (Muddling your private bank account with the businesses is a recipe for
future disaster.)
Again, this is not glamorous work and many new business owners skip it. But it will help your self-govern with regard to how you're running your business and how viable it is. It is hard work upfront that will pay off significantly down the track.
5. Choose the right business structure
There are multiple options here and choosing the right one can have a big impact on:
Your personal liability from your business, its products or services
Future plans for downstream partners or investors
Administrative costs of setting up and maintaining your preferred business structure
Tax effectiveness of your chosen structure.
Being a Sole Trader may be the simplest and cheapest (and most common) option, but your personal assets are unprotected. It doesn't give you much protection if things go horribly wrong in your business.
An Australian Proprietary Limited company (a Pty Ltd) remains the most common structure. It needs only one shareholder, one director and one resident director. There is no mandatory minimum paid-up capital and your personal assets are protected.
Whatever your structure, you'll need to register your business with ASIC. Your form needs to identify the business' ownership structure. You will also need an Australian Business Number (ABN) for your business from the Australian Business Register website. Then register for the Goods and Services Tax (GST). Registration is mandatory for any business generating more than $50,000 in revenue (not profits) during any 12-month of operations.
The final word
Setting up your own business is exciting, challenging and occasionally frustrating if you're not prepared. Put in place smart plans, receive competent tax planning and legal advice and consider staffing lean, to begin with. Above all else, keep a sharp eye on your cash burn! If you need help ensuring you're ticking all the right boxes, a chat with your financial advisor is a great place to start.
You might also like …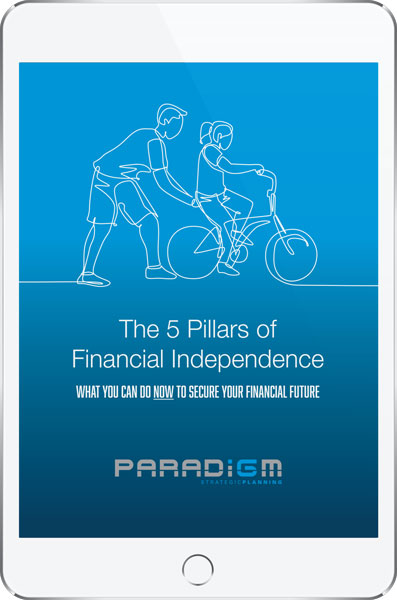 If you like this article, you might be interested to know that we share useful thoughts and information like this in our monthly financial insights email. You can subscribe to that email here. All subscribers receive a copy of our e-book: The 5 Key Pillars of Financial Independence.
---
General Advice Disclaimer
This article contains general advice only, which has been prepared without taking into account the objectives, financial situation or needs of any person. You should, therefore, consider the appropriateness of the information in light of your own objectives, financial situation or needs and read all relevant Product Disclosure Statements before acting on the information. Whilst every care has been taken to ensure the accuracy of the material, Paradigm Strategic Planning or Sentry Advice Pty Ltd will not bear responsibility or liability for any action taken by any person, persons or organisation on the purported basis of information contained herein. Without limiting the generality of the foregoing, no person, persons or organisation should invest monies or take action on reliance of the material contained herein but instead should satisfy themselves independently of the appropriateness of such action.
Paradigm Strategic Planning Pty Ltd is an Authorised Representative of Sentry Advice Pty Ltd AFSL 227748